Contents:
---
WORK
Biographical Abstract
Full curriculum vitae
Performance Resume
Internal Medicine
Medical Informatics
Traditional Chinese Medicine

---
PLAY
Cooking
Media
Travel
WESTERN CLASSICAL MUSIC

Otto Klemperer
---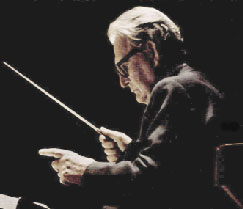 Otto Klemperer
disclaimer
Contents of this page:
For more information:
---
Posted to: rec.music.classical.recordings
Thu, 22 Feb 1996
Klemperer's early years
Klemperer had two major segments in his recording career. The first segment dated from his glory days at one of the major Berlin opera companies in between the wars. As I understand it, one thought of the great conductors of that time in terms of the "big five": Wilhelm Furtwaengler, Bruno Walter, Erich Kleiber, Klemperer, and Arturo Toscanini. Klemp and Kleiber tended towards the more radical side at the time, ardently promoting 20th century German and Austrian compositions. He recorded for Polydor and Vox, though these discs are quite hard to find now. The conducting style that emerges from these recordings is quite different from the second phase that most of us are familiar with. His tempi were a good deal brisker, and his phrasing didn't have that granitic monumentality that we know and love. He also did quirkier stuff, like a spirited recording of music from Kurt Weill's Three Penny Opera, recorded around the time of its premiere.
Try starting off with Koch 3-7053-2 HI. This is a selection of prewar recordings, including that seductively cabaret-ish recording of excerpts from Die Dreigroschenoper and a spirited Brahms 1st (though the later EMI remake, a different performance in many ways, has better sound).
The Indian Summer for EMI
Klemperer's Jewish origins naturally made him something of an undesirable, though, as the 1930's progressed, and he was ultimately forced to flee Berlin for the U.S., Eastern Europe, and eventually London. In the 1950's, Walter Legge, the great recording impresario at EMI, was looking for a conductor for his house orchestra, the Philharmonia. Herbert von Karajan had built the orchestra, but was wooed away to direct the Berlin Philharmonic. Legge offered the job to Klemperer, resulting in a glorious Indian summer, with scads of wonderful recordings left behind. EMI has been in the process of reissuing just about all of it in the past few years, and occasionally pulls stuff from circulation, but eventually, it comes back out again. Going chronologically ...
J.S. Bach recordings
Period instrument enthusiasts will hardly leap at the chance to hear the big-boned, rich-sounding, broadly and Romantically phrased Bach recordings that Klemperer made. I must confess that most of them don't appeal to me. However, one of his triumphs here is a powerful reading of the St. Matthew Passion (EMI CMS 7 63058 2). It remains a classic, in part for its all-star cast, including Elisabeth Schwarzkopf, Christa Ludwig, Nicolai Gedda, Walter Berry, and especially the compelling singing of Peter Pears as the Evangelist and Dietrich Fischer-Dieskau as Jesus. In part, this recording is beloved for the clear, overwhelming spiritual power with which it is sung and played. There are, to be sure, moments that clang to ears used to modern conductors in this sort of thing. But there are moments of devotional intensity that are hard to match in any recording. Not the ideal, but a great one. There are other Bach recordings, including Brandenburgs and a b minor Mass that I haven't heard, and don't like the heavy style well enough here to start looking.
Haydn and Mozart recordings
Klemperer recorded taut, old-style performances of late Haydn and Mozart symphonies, as well. These should be out on CD. There are more stylish (Beecham) and lyrical (Walter) interpreters of this music from the same time. But Klemperer's recordings are surprisingly good, and his 40th is almost heart-stoppingly intense. He also recorded the three Mozart/da Ponte operas, along with Die Zauberfloete. I only know the Don Giovanni recording, with a fine Nicolai Ghiaurov in the title role and arresting conducting; others have spoken warmly of the rest, but not in the same breath as, say, Boehm or Giulini. By the way, I only know of stereo recordings of the late Mozart symphonies.
Beethoven recordings
The centerpiece of Klemperer's EMI legacy is a stereo set of Beethoven symphonies recorded in he 1960's. There are also earlier, even better recordings that he made for EMI, which are not currently available. Try, for example, the stunning, thrilling, vividly recorded October 1955 recording of the "Eroica" symphony (EMI CDM 7 63855 2), along with the 1960's recordings of a surprisingly charming 4th symphony and a 5th with an (excessively?) overwhelming finale. He did the piano concerti with Daniel Barenboim at the piano, along with a CD of overtures (decent if unspectacular).
Two other high points in Klemp's recorded Beethoven, though, are a Missa Solemnis (EMI CMS 7 69538 2) which has the same virtues as his St. Matthew (excellent choir, profound spiritual conviction) and the same vices (occasional plodding tempi, especially in the fugues); and what is arguably one of the finest Fidelio performances on record.
Schubert, Schumann, Brahms, and Wagner
There are smatterings of other Romantic repertoire, such as scattered Schubert symphonies, a complete Schumann cycle, and a few Mendelssohn symphonies. I don't know them especially well, but suspect they've been better served in the past.
Klemp's Brahms, however, was something special. There's a 3-CD set with the four symphonies, the Alto Rhapsody, and (I think) the Haydn variations and overtures. The recording of the 1st is, again, compellingly intense, in a league with Furtwaengler and Toscanini. Others have spoken warmly of his recordings of the other symphonies; I can't confirm or deny. There's a monumentally grand Brahms violin concerto, with David Oistrakh and an interesting (if uneven) German Requiem recording (EMI CDC 7 47238 2). It's worth hearing for Klemperer's overall conception of the piece, and the most compelling orchestral accompaniment on disc.
There are a few Wagner orchestral bleeding chunks and one or two complete operas, none of which (I don't think) represents Klemperer at his best.
Bruckner and Mahler recordings
Klemperer was one of several important disciples of Gustav Mahler, and his recordings of Bruckner and Mahler symphonies may rank among the most important in his discography. Here, Klemperer's tendency towards grand sweeping gestures, hard-edged, granite-like orchestral sound and phrasing which preferred expression of an inner truth over sheer beauty of sound became major virtues. Off the top of my head, I can think of studio recordings of the 4th, 5th, 6th, 7th, 8th, and 9th symphonies of Bruckner, along with the 2nd, 4th, 7th, and 9th of Mahler and Das Lied von der Erde. All of them are at least worth hearing (with the possible exceptions of a heavy-footed Mahler 7 and Bruckner 8). The Bruckner 4th (EMI CDM 7 69127 2) and 6th (EMI CDM 7 63351 2) are among the finest on disc. There are at least two Mahler 2nds out there; I own a London CD reissue (London 425 970-2) of a Concertgebouw Orchestra performance featuring Jo Vincent and the inimitable Kathleen Ferrier. It's quite good. One would have expected more from Klemperer's Mahler 9th than one gets. It's not bad, but others have traversed this ground in more convincing fashion; the same goes for the Bruckner 9th.
Pride of place must go, though, to Klemperer's stunning recording of Mahler's Das Lied von der Erde. It features chiseled, carefully phrased playing from the Philharmonia and gorgeous singing from Fritz Wunderlich and Christa Ludwig, and everything good that you've heard about it is true. It's essential.
---
Recordings recommended in this essay
---
For the desert island
---
About the picture
The photo of Dr. Klemperer is from the front cover of the EMI boxed set SLS 804 Brahms: The Four Symphonies, Tragic & Academic Festival Overtures. Although the photographer is uncredited, it appears to be G. MacDomnic's work.