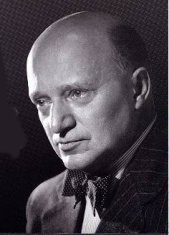 Erich Kleiber (1890 - 1956)
Germanic conductor, music director of the Berlin State Opera in the 1920's, and a missing link between the improvisational, Romantic, "subjective" style of conducting espoused by Furtwängler, Walter, Mengelberg, and the like and the literalist, Modernist, "objective" style of Toscanini and almost everybody since. Father of conductor Carlos Kleiber, and creator of some memorable studio recordings after World War II.
Contents of this page:
---
A short biography
Birth and Beginnings
Erich Kleiber was born on August 5, 1890 in Vienna. Both sides of his family hailed from southern Germany, though his parents met and married in Prague, then moved to Vienna in search of employment. Both parents were ardent amateur musicians, but unfortunately, they died within a year of each other, leaving Kleiber an orphan at the age of six. Kleiber moved to Prague to live with his maternal grandfather, but the grandfather died a year later. By 1900, Kleiber was back in Vienna, attending Gymnasium and living with an aunt. In Vienna, he started attending his first concerts at the Volksoper, and fell under the spell of opera, marveling at the ability of music and drama to create unforgettable effects. In 1906, after hearing Gustav Mahler conduct the premiere of his own Sixth Symphony, the 16 year old Kleiber set his sights on becoming a conductor. Two years later, he returned to Prague to study philosophy, history, and art history at the University of Prague, and to study music at the Prague Conservatory.
Training and Early Career
Kleiber's initial studies at the Conservatory were in music composition, but as he had done in Vienna, he turned his primary attentions to the various opera houses in town. He snuck into rehearsals at Prague's German Theater, then found his way onto the staff, first as an unpaid volunteer, then as chorus master and vocal coach. In 1911, at the age of 21, he made his debut as a conductor, directing stage music to accompany a comedy. He demonstrated a limitless capacity for hard work and thorough preparation, and made an impression on many a company Intendant. A year later, Kleiber dropped out of the Prague Conservatory and accepted an appointment as third conductor at the Court Opera in the south German city of Darmstadt.

In Darmstadt, Kleiber rapidly gained notice for his indefatigable industry and keen musical instincts, and he rose steadily through the ranks of the Court Opera. He made his mark in 1916, when he stepped in (at the last minute and without prior warning) to run a general rehearsal of Richard Strauss's opera, Der Rosenkavalier, and astonished all present by running the rehearsal as he sight-read the score! By 1919, Kleiber was ready to leave his apprenticeship in Darmstadt, and became first conductor in Barmen-Elberfeld. First conductor posts followed in Düsseldorf in 1921 and Mannheim in 1922.
Berlin State Opera
Then, in 1923, just after turning 33, Kleiber was invited to become general music director at the Berlin Staatsoper unter dem Linden (Berlin State Opera). The State Opera had just lost their conductor, Leo Blech, to a rival opera house, and negotiations with better-known conductors such as Otto Klemperer, Bruno Walter, and Alexander von Zemlinsky had broken down. The company Intendant took a chance on the young up-and-coming Kleiber by offering him a chance to conduct Beethoven's opera, Fidelio, in place of the departing Blech. Kleiber rapidly won over the singers of the State Opera and the Intendant, though the critical press was a little slower in coming around.
Kleiber rapidly established himself in Berlin's musical life, demonstrating breathtaking range in the opera house and the concert hall. He programmed lesser-known works by Wolfgang Amadeus Mozart at a time when only five or six works were in the common repertoire, and championed modern music alongside older works. In 1924, Kleiber led a successful revival of Leoš Janáček's opera, Jenůfa. The next year, Kleiber led the world premiere of Alban Berg's landmark opera, Wozzeck (after a mere 137 rehearsals!). In addition to contemporary music, Kleiber also gave memorable performances of core German repertoire, from his "three F's" of Der Freischütz, Fidelio, and The Marriage of Figaro to the masterworks of Richard Wagner and Richard Strauss.
As music director of the Berlin State Opera, Kleiber was also important enough to begin making recordings. His first recordings were made between 1923 and 1926 for the now-defunct Vox/Kristall company, featuring overtures and short works performed with his Berlin State Opera Orchestra. As recording technology matured, he began recording with other orchestras, including the rival Berlin Philharmonic, and set down more ambitious, larger-scale works on disc. He made his first recordings of complete symphonies in 1928, and many more would follow in the years to come.
As Kleiber established his reputation in Berlin, he also began traveling to make guest conducting appearances, beginning in central Europe and then expanding to South America. In 1926, Kleiber presented concerts for six weeks at the grand old Teatro Colón in Buenos Aires. On that first tour, he met and married Ruth Goodrich, an American working at the time at the US Embassy in Buenos Aires. For most of the next quarter century, Kleiber would return to the Teatro Colón each year to present concerts, oratorios, and operas for up to two months at a time.
By 1929, Kleiber was one of the premiere conductors in Europe (a celebrated photograph captures Kleiber alongside four of his rival colleagues, three of whom -- Bruno Walter, Otto Klemperer, and Wilhelm Furtwängler -- could be found conducting concerts in other halls in Berlin on the same nights as Kleiber!). Unfortunately, amidst his personal and professional success, Kleiber began to have political problems. Economic depression paved the way for the rise of the Nazi party in Germany. As the Nazis gained power, they began a propaganda campaign that included political interference with artistic and cultural institutions. Kleiber continued to champion contemporary and "degenerate" music -- in 1930 he led the world premiere of Darius Milhaud's ambitious opera Christophe Colombe and in the next few years, he made plans to premiere Alban Berg's Lulu. But by 1935, it was clear that political forces would prevent Lulu from being performed at the State Opera. Never one to take orders from others, Kleiber resigned his post and left Germany.
Wartime Wanderings
Kleiber had worked for seven years in Darmstadt and twelve in Berlin. He would not hold another post for that long a period in the next twenty years of his life. Kleiber became an artistic vagabond, conducting to acclaim in Belgium, England, Switzerland, and Italy. One source of stability came from a recurring engagement, guest conducting at the Teatro Colón in Buenos Aires. Argentina became his new home base, as he was welcomed warmly there season after season, and the best singers and soloists in Europe were lured by the former Berlin State Opera's music director to appear in Argentina. He moved his family, including his young son Carlos, to Argentina, and gave concerts throughout South America, from Cuba to Chile.
Kleiber did not conduct much in the United States -- six-to-seven week stints in 1930 and 1931 with the Philharmonic-Symphony Orchestra of New York were well received by the orchestra, not so well received by the critics, and Kleiber objected to the "industrial quality" of American concert performances. Kleiber the indefatigable perfectionist also wanted more rehearsal time than the average US orchestra would allow. He did not return to the United States until 1946, when Arturo Toscanini invited Kleiber to guest conduct a series of hourlong concerts with Toscanini's fabled NBC Symphony Orchestra for radio broadcast. Kleiber was invited back to conduct for NBC in the winter of 1947-48, but never returned to North America again.
Postwar and Final Years
Kleiber returned to Europe in February of 1948, giving memorable performances at the Royal Opera House at Covent Garden and conducting the London Philharmonic Orchestra. In 1948, Kleiber also began an exclusive relationship with Decca Records, making recordings first with the London Philharmonic, then other great orchestras of the time. He also began conducting concerts and operas throughout the rest of Europe, returning to Berlin in 1951.
Kleiber was engaged at that time to help rebuild his old Berlin State Opera, in the Russian sector of postwar Berlin and in ruins after the war. Unfortunately politics again interfered with Kleiber's plans to make music: because of his East Berlin ties at the State Opera, Kleiber was banned from conducting a concert in June of 1952 with the Berlin Philharmonic Orchestra (which played in West Berlin). Then, as the reopening of the Berlin State Opera took on more of the feel of a propaganda campaign than a musical enterprise, Kleiber resigned from the State Opera in March of 1955, six months before it was scheduled to reopen.
Despite these political intrigues, Kleiber conducted actively, with radio orchestras in Germany, with his hometown Vienna State Opera, and other groups. He made increasingly fine recordings for Decca, including celebrated recordings of Der Rosenkavalier and The Marriage of Figaro with the Vienna State Opera and Beethoven's Fifth Symphony with the Concertgebouw Orchestra. There were plans to record Beethoven's Missa Solemnis and Fidelio but alas, such plans were cut short by a heart attack on January 27, 1956 (oddly enough, the 200th anniversary of Mozart's birth) in Zurich. Erich Kleiber was buried in the Friedhof Hönggerberg near Zurich.
---
Kleiber appreciated
Even among devotees of historic recordings of classical music, Erich Kleiber is a peripheral character. He is best remembered as the youngest, least recorded of the "Big Five" captured in a photograph in Berlin in 1929. To be sure, his obscurity is partly his own doing -- his famous sarcastic temper, fanatical perfectionism, political naïveté, and refusal to take orders from others added up to no permanent conducting position after 1935, no long-term relationship with any single ensemble, and no presence in the United States. As a result, there is no legacy of multiple recordings with one orchestra to match the legacies left behind by rivals like Bruno Walter, Otto Klemperer, Wilhelm Furtwängler, Willem Mengelberg, or Arturo Toscanini.

Some of those rivals, such as Furtwängler, Klemperer, Mengelberg, and Walter, came from a Romantic tradition of interpretation. These musicians were not bound to blindly obey the markings in a score, and used performance traditions and their own intuitions to personalize a performance, in effect re-composing a piece as they performed it. Conductors like Toscanini epitomized a more literalist approach to performance, moving away from the willful manipulations of the Germans to a more faithful reproduction of the scores as written. And a modernist style emerged with composer-conductors like Igor Stravinsky, who sought a more impersonal, mechanical musical production, with rock-solid rhythms emerging as more important than phrasing or harmony.

Kleiber fell into none of these neat categories, and all of them at the same time. From the beginning, Kleiber's recordings have a strong sense of rhythm and pulse. On the one hand, he avoided the sometimes self-indulgent, wayward variations in tempo of the Romantic conductors. On the other, Kleiber steered clear of the metronomic inflexibility of the literalists and modernists. There was ebb and flow in Kleiber's tempos, but each tempo was organically related to the others, and all stemmed from a single, unifying pulse. Kleiber studied scores relentlessly, even in his leisure time, and surprised listeners with details that turned out to be little more than the carrying out of directions in the score that were often ignored by other conductors. And yet, he could incorporate a Romantic sense of the tension and release of a phrase, even at the same time that he was observing markings, keeping the orchestral sound transparent so that inner voices could be heard clearly alongside the melody and bass lines. The playing was never fussy, and the characteristic rhythmic drive and buoyancy held everything together.

Kleiber's first recordings were made in the 1920's, at a time when orchestras had to be interrupted every three to five minutes to change discs. He did not work well with this process, and his steadiness of pulse does not come through in recordings where he had to be interrupted repeatedly in this fashion. In an interview at around this time, he said, "A man who only listens to records in a phonograph and does not go to concerts is like one who only eats canned meals. And it's good for people to eat fresh food." He was as difficult and demanding with record producers as he was with the Intendant-administrators who ran his opera houses.

After World War II, when the advent of tape made it possible to record in longer takes, Kleiber's recordings improved. The recordings, and the documents of concert performances, show those qualities of pulse, transparency, and close attention to the score that Kleiber was famous for in his time.

Even more important than a recorded legacy was the physical legacy that Erich Kleiber left behind. Erich and Ruth had a daughter, Veronica, and a son, Carlos. Carlos displayed musical talent from an early age, but was discouraged by his father from pursuing a musical career. The son, like his father, would not be denied his love of music, got started by volunteering at an opera house and then received a paid position. Carlos, like his father before him, worked his way steadily up to become one of the most celebrated living opera conductors. Many of Carlos Kleiber's singular traits -- his fasitidous perfectionism, his extraordinary intensity and control, his searching intelligence and grasp of musical architecture -- seem to have been inherited from his father, along with an unfortunate distaste for making recordings. Thus Carlos Kleiber's success has ensured that Erich Kleiber's style of conducting has survived, long after the art of Klemperer, Walter, Toscanini and Furtwängler faded into memory.
---
An Annotated Erich Kleiber Discography
Early Recordings and Shorter Works
Kleiber's earliest recordings, from the 1920's and early 1930's, were made on primitive acoustic and early electrical discs. These discs limited recording time to three or four minutes at a stretch. As a result, most of Kleiber's earliest recordings are of lighter, shorter fare. Kleiber recorded opera and operetta overtures, waltzes by the Strauss family, German Dances of Beethoven, Haydn and Mozart, tone poems of Richard Strauss, and even the occasional foray into Janáček and Stravinsky. Kleiber's Strauss waltzes are particularly interesting -- no swooning hesitations or romantic reverie here, but rather a straightforward, direct approach with an infectious sense of enjoyment. Darius Milhaud marveled in 1930 that "the man who stood like a seer above the tremendous cauldron of Fidelio could also encompass the exquisite nonchalance" of Strauss waltzes, and the best 1930's recordings of these waltzes capture that sense.

Of all the reissues of Kleiber's early recordings, I prefer the Teldec series, with the set of "Orchestral Showpieces" giving the broadest single-disc introduction to Kleiber's early records. There are also reissues on Biddulph and Preiser, though unfortunately all of them seem to be out of print in the United States.
Symphonies of Dvořák, Mozart, Schubert, Tchaikovsky
Kleiber did not make many studio recordings of symphonic repertoire. Apart from his Beethoven (more on this below), there are discs of the Dvořák 9th, the Mozart 33rd and 38th through 40th, the Schubert 3rd (two movements only) and 8th, and the Tchaikovsky 4th and 6th. Many recordings were not made until after Kleiber had resigned from the Berlin State Opera, and don't benefit from ensemble and conductor working together for years to craft a distinctive sound. Many of these symphony recordings are not in print at this time.
One exception is a Naxos reissue of Czech symphonic music including the Dvořák 9th Symphony, some shorter Dvořák works, and Smetana's tone poem, The Moldau. The 9th was recorded with Kleiber's Berlin State Opera Orchestra in 1929, and unfortunately shows the limitations of recording technology at the time. The orchestra had to stop every few minutes so that the engineers could change recording discs, and the recording offers some lovely playing in the slow movement, but weird fluctuations of tempo and dynamics that probably reflect Kleiber's difficulty with repeatedly stopping and starting. The Smetana is the gem on this disc, with astonishingly transparent orchestral textures for a 1928 recording, and skillful handling of the melodic motifs that tie the tone poem together. However, that one performance is probably not good enough to warrant buying the whole disc.
There are two Mozart recordings currently available. Andante's set of comparative performances of late Mozart symphonies includes Kleiber's 1928 recording of the Symphony #39 in E-flat, K.543, again with the Berlin State Opera Orchestra. This recording has many of the hallmarks of a great Kleiber performance: cleanly separate blocks of wind and string sound, an intelligent approach to pacing with a deft rhythmic link between the slow introduction and fast portion of the first movement, but the old recorded sound does emphasize intonation problems in the orchestra.
There are no such limitations from recording technology in a great 1949 account of the Symphony #40 in g, K.550 with the London Philharmonic Orchestra. Audio tape technology freed Kleiber of the tyranny of short takes, and Kleiber and the orchestra responded with a taut, dramatic account of the symphony, as impressive for its textural clarity as it is for its dash and élan. This recording has been reissued as part of EMI's Great Conductors of the 20th Century series.
Kleiber's account of the Schubert 8th symphony was made in January of 1935 with the Berlin Philharmonic Orchestra. It has been reissued on Teldec. The recording sessions took place less than a month after Kleiber conducted the work in his last concert before he left the Berlin State Opera. There's a fierce urgency in the first movement of this recording, and perhaps a sense of detached resignation in the lovely slow movement that make this one of Kleiber's most memorable studio efforts.
In July of 1949, Kleiber recorded Tchaikovsky's 4th Symphony with the Paris Conservatoire Orchestra for Decca. He returned to Paris to record the 6th in October of 1953. Unfortunately, neither recording has been in print for some time. I have never heard a decent sounding reisue of either symphony recording.
Beloved Beethoven
Erich Kleiber recorded Beethoven's 2nd, 3rd, 5th, 6th, 7th, and 9th symphonies between 1938 and 1954, and Kleiber the perfectionist returned to record the 2nd, 3rd, and 6th symphonies a second time. Clearly this music mattered deeply to him, and the heart of Kleiber's studio legacy is in his recordings of Beethoven.
The first recording of Beethoven's 2nd Symphony, in 1929 with the Berlin State Opera Orchestra, suffers again from ragged execution, a limited dynamic range, and the constraints of early recording technology. A remake in 1938 with the Belgian National Orchestra is spirited, but not thrilling or essential listening.
The Eroica Symphony was dear to Kleiber's heart, and he was not completely satisfied with either studio recording that he made. I prefer the earlier (May 1950) Decca recording with the Concertgebouw Orchestra, a magnificently lithe, brisk, taut, muscular and disciplined performance. The remake with the Vienna Philharmonic in April of 1955 features superior (stereo?) sound and the massive exposition repeat in the first movement, but ragged playing in spots, particularly in a very problematic finale.
Kleiber never made a studio recording of Beethoven's Fourth Symphony; a concert broadcast with the Amsterdam Concertgebouw Orchestra from 1950 is decent but not essential. Kleiber's studio recording of Beethoven's Fifth Symphony, with the same Concertgebouw Orchestra on Decca, is a different matter entirely. There's a weightiness to the introductory rhythmic figure that a hard-driven literalist like Toscanini doesn't always get, yet he doesn't linger indulgently on the fermata the way a Furtwänger might. Most of the performance is tightly coiled, furiously energetic, and grab-you-by-the-lapels intense, and the scherzo features some of the cleanest, fastest double-bass playing I've ever heard. But he's not afraid to slow down a little bit in the finale, giving the opening figure a spacious grandeur that escapes many a more recent conductor. This symphony is probably the most recorded symphony in the discography, but this performance is the one I keep returning to (I prefer it even to the widely praised recording that son Carlos made for Deutsche Grammophon).
Kleiber recorded Beethoven's "Pastorale" Symphony twice, once in 1948 with the London Philharmonic and again in 1953 with the Concertgebouw Orchestra. The 1953 recording is clearly not a sentimental, leisurely account, and there have been more lyrical readings of the slow movement, but the playing is fine throughout, and the Peasants' Merrymaking and Storm sequences are among the most rambunctious and fierce I've ever heard. The transition to the final Shepherds' Song is also masterly, but on the whole, I'm not sure what motivated him to return to the studio to re-record the piece, since the 1948 London recording strikes me as utterly wonderful -- more charming and more relaxed in feel, even though it's a full two minutes shorter than the remake. The slow movement is gorgeous and the closing wind section is the most vivid depiction of birdsong that I've ever heard in many recordings of this piece and the finale features Kleiber's trademark sonic transparency, with three or four different simultaneous musical ideas equally clear and audible without obscuring any of the other lines.
The 7th Symphony was recorded in September of 1950 with the Concertgebouw Orchestra of Amsterdam. Decca reissued it on a mid-priced CD in 1991, but it is long out of print. Historically Informed Performance enthusiasts will be interested to know that Kleiber's recording is the first one to feature a slow movement that ends with the strings playing their entire final phrase pizzicato, rather than switching back to bow as most orchestras do, despite the lack of any marking to this effect in Beethoven's score. In addition to this kind of exhaustive attention to detail, Kleiber also turns in a brisk, unfussy, beautifully transparent slow movement and a solid first movement, though the finale has some eccentric tempo shifts.
Kleiber's recording of the 9th Symphony comes from sessions in July 1952 with the Vienna Philharmonic Orchestra, the Wiener Singverein, and soloists Hilde Gueden, Sieglinde Wagner, Anton Dermota, and Ludwig Weber. Decca reissued this on CD in 1990, but it is now out of print. It's a solid recording, with suitably dramatic first and second movements, a slow movement with a shade more forward motion and momentum in the second subject than one normally gets, and an energetic finale with the high point for me being a spirited, idiomatic Turkish march.
The process of finding Kleiber recordings became much easier in 2004, when Decca reissued most of Kleiber's studio recordings in a 6-CD boxed set in their Original Masters series. This set includes all of the Beethoven recordings and the Mozart 40th described above, along with a very fine, incisively detailed concert performance of Schubert's great C-major symphony and excerpts from Kleiber's final concert of January 1956. Unfortunately, the Tchaikovsky recordings weren't included, but this box otherwise becomes an easy way to conveniently accumulate all the glories of Kleiber's instrumental art.
Concert Performances
There are a fair number of tapes of concert performances to supplement Kleiber's relatively meager studio catalogue. The very first live recording was an operetta excerpt from Berlin in 1932, but the bulk of his live recordings are airchecks of radio broadcasts from Uruguay's state radio, broadcasts from the Teatro Colón, the NBC Symphony radio broadcasts, and postwar broadcasts from French and German state radio companies. Sound quality, as one might expect, is wildly variable, with many of the South American broadcasts in particularly poor sound.
The concert broadcasts sometimes offer the chance to compare Kleiber the studio musician with Kleiber in concert, and the concert performances are often livelier and more vital, though sometimes they suffer from worse sound or interpretations that work better in a concert hall than a recording. Some of the concert reissues offer the only documentation of Kleiber's work in repertoire ranging from Bach's St. John Passion to Verdi's Requiem, Ravel's Mother Goose Suite, Alberto Ginastera's suite from the ballet Panambì, and Beethoven's Missa Solemnis. Unfortunately, most of these reissues are out of print as of April 2004. The European Urania label did the most to reissue Kleiber's work, but availability of this label is spotty in the United States. The best of the available collections is a Music and Arts reissue of concert broadcasts with the NBC Symphony Orchestra between 1947 and 1948. Recorded sound is comparable to what you would expect from radio broadcasts of the time, and there are a few interesting tidbits, like Borodin's Second Symphony, a live and more unbuttoned Tchaikovsky Fourth Symphony, and some other curiosities.
Opera Recordings
Kleiber's finest work was recognized even in his own lifetime. He made two studio recordings with the Vienna State Opera -- a 1954 recording of Richard Strauss's Der Rosenkavalier and a 1955 set of Mozart's The Marriage of Figaro. Both were the first recordings made of the complete, uncut operas, both sets were hailed in their time as milestone recordings, and remain landmarks to this day. The singers are generally very good, and some performances -- Sena Jurinac's Octavian in Rosenkavalier and 32-year-old Cesare Siepi's marvelous, rambunctious Figaro -- are performances for the ages. The Vienna State Opera Orchestra (better known as the Vienna Philharmonic) is in top form -- the overture to Figaro is one of the fleetest, briskest performances I've ever heard, yet never sounds rushed, and the orchestra seems ready to burst out of the pit for the sheer joy of the playing. But the heart and soul of these recordings is Kleiber, whose sure, unsentimental hand and deft comic timing hold everything together masterfully. Both recordings have benefited from recent remasterings by London, and are as fine an introduction to Kleiber's art as one could want.
There are also a number of live performances of operas on CD. Some interesting documents of the best opera singers of the 1940's and 1950's can be heard in Kleiber performances from Buenos Aires -- I happen to like a cut performance of Wagner's Tristan und Isolde from 1948, which features Kirsten Flagstad as Isolde. Another curiosity is a performance of Giuseppe Verdi's I Vespri Siciliani, performed in Florence in 1951 with Maria Callas as Elena and Boris Christoff as Procida. Unfortunately, the reissues don't feature fabulous sound, so this is probably best reserved for Callas and Kleiber completists. Unfortunately, there is no broadcast of Alban Berg's Wozzeck, which Kleiber premiered and championed; scattered labels do offer concert broadcasts of three scenes from the opera. These scenes do show Kleiber's ability to link Berg's thorny modernist score with the Viennese sound world that they came from, though reissues of these performances are also difficult to come by.
Desert Island Kleiber
---
Recommended Reading
In addition, a number of CD issues also include well written biographical introductions. The best of them is in the Music & Arts set of live performances.
---
For more information:
---
---
---
Last updated: January 27, 2008 by James C.S. Liu; link updated January 23, 2016.

[disclaimer] [about this page/copyright info] [back to the top]