Contents:
---
WORK
Biographical Abstract
Full curriculum vitae
Performance Resume
Internal Medicine
Medical Informatics
Traditional Chinese Medicine

---
PLAY
Cooking
Media
Travel
WESTERN CLASSICAL MUSIC

Arturo Toscanini
---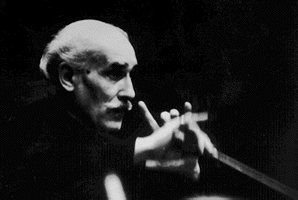 Arturo Toscanini
disclaimer
Contents of this page:
For more information:
---
Posted to: rec.music.classical.recordings
Subject: Arturo Toscanini: the good side
Date: Tue, 01 Oct 1996
polis@firstnethou.com wrote:
I remember a David Randolph program comparing Toscanini Beethoven 9,bar by bar with Scherchen westminster.Not only was the Scherchen much more interesting ,but the toscanini was downright dull. Virtually everything the man did sounded like a Rossini overture.He had no sense of orchestal color and that was not the fault of RCA engineers;listen to Reiner recordings made at the same time.Nor wasit the fault of studio 8h.I heard Toscanini and Cantelli live-what a difference.He was incapable of handling contemporary music,probably because he could not absorb it in his memory,and his eyesight and vanity precluded his using a score.In short,he was ,as szell noted ,a limited talent,boosted by the RCA publicity machine.Alan
I presume this is flat-out flame-bait, so I'll do my best not to sound rude in my response.
Suffice to say that I don't count myself in the Toscanini fan club, but on the other hand, I think this summing up is a bit unfair, for several reasons.
For one thing, the lion's share of Toscanini's recordings were made in the last decades of his life. Remember that he was born in 1867, and for him, Verdi and Puccini at one time were "contemporary music" (music he premiered, in more than one case). By, say, 1937, he was seventy years old, was about to do his last live opera performances in the theater (Salzburg circa 1938, I believe), and it is then that he starts making the recordings that make up most of what survives on CD now.
To call Toscanini dull also strikes me as spectacularly unfair. I'd be curious what performance was used as the basis of comparison. Many a Toscanini performance could be mesmerizing, gripping in a fanatical kind of intensity (try the Forza del Destino Overture performance on The Art of Conducting, and the wartime recordings of Brahms 1st on Melodram, the Beethoven 3rd piano concerto with Rubinstein and violin concerto with Heifetz, and the Verdi Requiem). Or there could be a mixture of loving lyricism and hopping excitement (EMI Brahms 2nd, Falstaff). Or good old-fashioned drama (the cycle of Beethoven symphonies on Relief was done in 1939, not too far removed from his opera-house days, and wonderful for its drama and supple, flexible tempos).
As far as orchestral color is concerned, I find myself spectacularly disappointed by the sound that RCA gave him in Studio 8-H. I don't think you can completely absolve the engineers -- try Toscanini's EMI discs of La Merde, the Engima Variations, the wartime Beethoven symphonies, or the postwar Brahms symphonies, and you hear a master of orchestral color at work (or at least I do; historic sound has been similarly unkind to Wilhelm Furtwaengler).
Toscanini was capable of performing Wagner operas from memory, so I doubt there were serious limits on what he could remember. (What he could absorb is another question, but again, I point you to the comment about what constituted "contemporary music" to him.) Alas, the few great historical conductors of contemporary music (Erich Kleiber, Serge Koussevitzky, Leopold Stokowski, to name a few) seem to have been consigned to the dustbin of history.
To sum up, I don't think of him as a limited talent. He was a major musician, all too poorly represented on disc, but his legacy lives on, for better and for worse, in the way that all classical musicians think about performance today. Overpublicized and overhyped? Yes. Unimportant? I think not.
My 30 lire, anyhow.
---
Toscanini's Beethoven
Toscanini's interests were fairly broad, but Beethoven was one of the central composers to Toscanini's art. He gave regular Beethoven cycles in New York, and recorded a complete series in the 1950's for RCA. In addition, there is a set of Carnegie Hall performances from the 1939-40 season which have been reissued on Relief, concert performances from the '30s with the BBC Symphony, and a rich variety of other concert broadcasts and recordings to choose from. Here are some of my favorites. I've never warmed to Toscanini's way with the 6th; it always seemed a bit too fast for my taste. I'm not crazy about any of AT's 9ths, either; perhaps it's because my ideal slow movement is *real* slow.

However, there are other Beethoven recordings that no Toscanini fan would want to be without, including his overwhelming December 1940 performance of the Missa Solemnis (various labels, with an all-star cast including Zinka Milanov, Jussi Bjoerling, and Alexander Kipnis) and the RCA disc of the 3rd Piano Concerto (with riveting solo work from Artur Rubinstein) and the Violin Concerto (with some guy named Heifetz).