Contents:
---
WORK
Biographical Abstract
Full curriculum vitae
Performance Resume
Internal Medicine
Medical Informatics
Traditional Chinese Medicine

---
PLAY
Cooking
Media
Travel
WESTERN CLASSICAL MUSIC

Benjamin Britten
---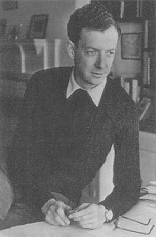 Benjamin Britten, Performer
disclaimer
For more information:
---
Posted to: rec.music.classical.recordings
Subject: Benjamin Britten, performer
Date: Sun, 9 Jul 1995

Scott Smith writes:

I'm trying to add a list of recordings with Britten as conductor or pianist of works by other composers to my Britten WWW pages. I have a list of what he recorded, but I'm trying to find what's available on CD.

Here are the CD numbers I have:

Benjamin Britten doubtless would have developed a reputation as one of the great conductors of the 20th century ... were it not for all the time he devoted to becoming one of the great composers of the 20th century! He had a composer's understanding of how music was assembled, and his performances, both of early and contemporary music, were marked by a performance style that was informed, intelligent, probing, that emphasized a transparency of sound, but was not afraid of the lyrical line or the dramatic effect. He did much in memorable fashion, both as pianist and conductor (I don't know personally of recordings of him as violist). So, to recordings that I know of.

Britten was a peerless interpreter of his own music, of course, though that isn't pertinent to the discussion here. He was active at the Aldeburgh Festival, both as pianist and conductor. There he performed lieder with one close friend and collaborator, Peter Pears; and he performed concerto and duo music for piano with another close friend, Sviatoslav Richter. A number of chestnuts have been reissued recently on the Music & Arts label, and are well worth pursuing. There are at least two Mozart concerti extant with Richter, including #27 in Bb, K.595 and #22 in Eb, K.482 (M&A CD-761). The latter of these features a cadenza written for Richter by Britten, and is a far more interesting performance than the studio recording Richter made with Riccardo Muti. Try M&A CD-776 for a Schumann Introduction and Allegro Appassionato with Richter and Britten again (along with a fabulous Liszt #1 with Ancerl and a Tchaikovsky #1 with Mravinsky!).

It can be argued, though, that Richter and Britten did their best work in four-hand and two-piano music. You can find out for yourself on M&A CD-709 (features Mozart's K.448 2-piano sonata, Debussy's En Blanc et Noir, Britten's Intro and Rondo alla Burlesca, and Schumann's Bilder aus Osten); CD-721 (Schubert Sonata in C D.812 with Mozart Sonata in C K.521); and CD-722 (Schubert Variations in Ab, D.813, Andante Varie D.823/1, Fantasie in f, D.940) for some of their finer work. CBS also used to have some Aldeburgh Festival stuff, but I suspect most of it is the same.

Britten also made a number of important studio recordings, most either as pianist or as conductor of the English Chamber Orchestra, mostly at the Maltings, mostly for London. He covered a fairly broad range of repertoire, including major music for voice and piano with Peter Pears (Schubert's Die Schoene Muellerin and Winterreise; Schumann's Faust excerpts), and music for cello and piano with Mstislav Rostropovich (there's a heavenly CD with a Romantic, lyrical "Arpeggione" and a fine Debussy sonata among other things). But it is as a conductor that Britten left behind his most important legacy. London has started reissuing some of these, a number in their Double Decca series of cheap twofers. There's a set of Brandenburg Concerti on 443 847-2, performed on modern instruments, with mid-range, Marrineresque tempi, clear textures and no shortage of style. Four Mozart symphonies (25, 29, 38, 40) can be found on 444 323-2, and again are not the fleetest performances, but have clearly learned a lesson from period scholarship. All repeats (that I know of) are observed, and a few are observed that I've never heard before (try the first movement of the 38th or the slow movement of the 40th, where both halves are doubled!), extending many of the symphonies to heavenly length.

There is also a St. John Passion (of Bach) in an interesting English-translation performance on 443 859-2, with Peter Pears as the Evangelist and Gwynne Howell as Jesus. This latter one is a mixed bag -- ears more attuned to modern recordings might have trouble with the boy sopranos and boomy operatic choral sound. But it's an incredibly dramatic, moving performance, memorable if anything for the "Waere diese nicht ein Uebeltaeter" segment, where the rising chromatic figures turn into a musical image of the Apocalypse.

Look also to London 425 160-2 (may no longer be available) for a wonderful disc of English string music. This includes Purcell's Chacony in g, Elgar's Introduction and Allegro, Bridge's "Sir Roger de Coverley," Two Aquarelles of Delius, and some of the most alert performances of Britten's Prelude and Fugue a 18 and Simple Symphony that I know of. And 417 288-2 has one of my favorite Britten recordings -- renditions of Mozart's K.466 (d minor) and K.595 concerti with Clifford Curzon at the piano. This is concerto playing as it should be -- tasteful, intelligent, witty, and marked by a sense of intimacy between soloist and orchestra that leaps into the realm of great chamber music.

There are also operatic excerpts with Pears and Kathleen Ferrier, and a few other things, but I hope this helps.